Flashmob Proposal cost and location in Tokyo
Flash Mob Japan's flash mob proposal is available nationwide.
It can be implemented not only in Tokyo and Osaka, but also in Hokkaido and Fukuoka.
Proposal example video and cost
Flash mob proposal in Tokyo Tower
This Tokyo surprise proposal video made Flash mob when college student who lives in Canada came traveling to Tokyo Tower. She taught her boyfriend a secret training while she was eating with her friends in Tokyo.The songs are all live songs.
The cost of this flash mob is about 900,000 yen.
Proposing by renting out a bar in Tokyo
This flash mob video is a chartered bar in Tokyo.
We are a couple visiting from Israel.
Our staff will accompany you to the Tokyu Skytree as a tourist guide, and then go to a restaurant at the end.
There were 6 dancers who performed, and they practiced dancing in advance using zoom.
The cost of this flash mob is about 350,000 yen.
You can do a flash mob around Asakusa, a tourist attraction
If you want to do a flash mob outdoors in Japan, you need to get permission from the local residents and the police.
And in many cases permission is not obtained.
However, we have a connection with the president of the shopping street in the Asakusa area, so there is a possibility that we will get permission.
Please leave the application procedure to the police.
In addition, the location fee will be about 120,000 yen.
Experienced Japanese dancers will respond
Our company was the first in Japan to start a flash mob agency business in 2012, and has more than 900 achievements.
The experienced dancers will appear, so the excitement and excitement are different from other companies.
Highly rated by many customers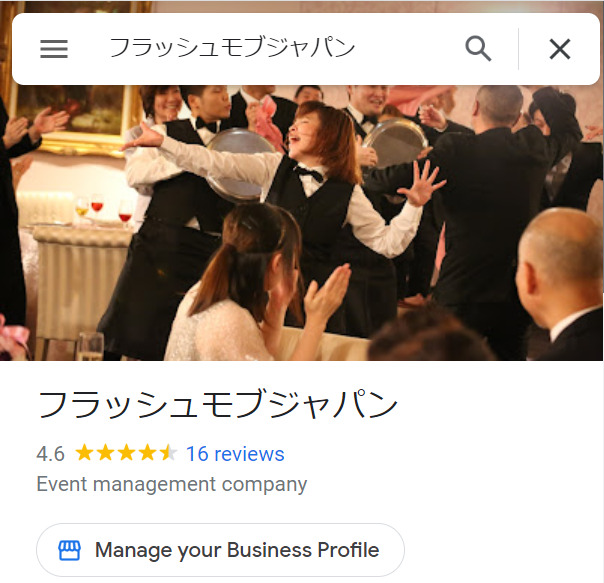 Check the ratings posted on google my business