Flashmob Japan
We have a lot of Flashmob ideas about Surprise Proposal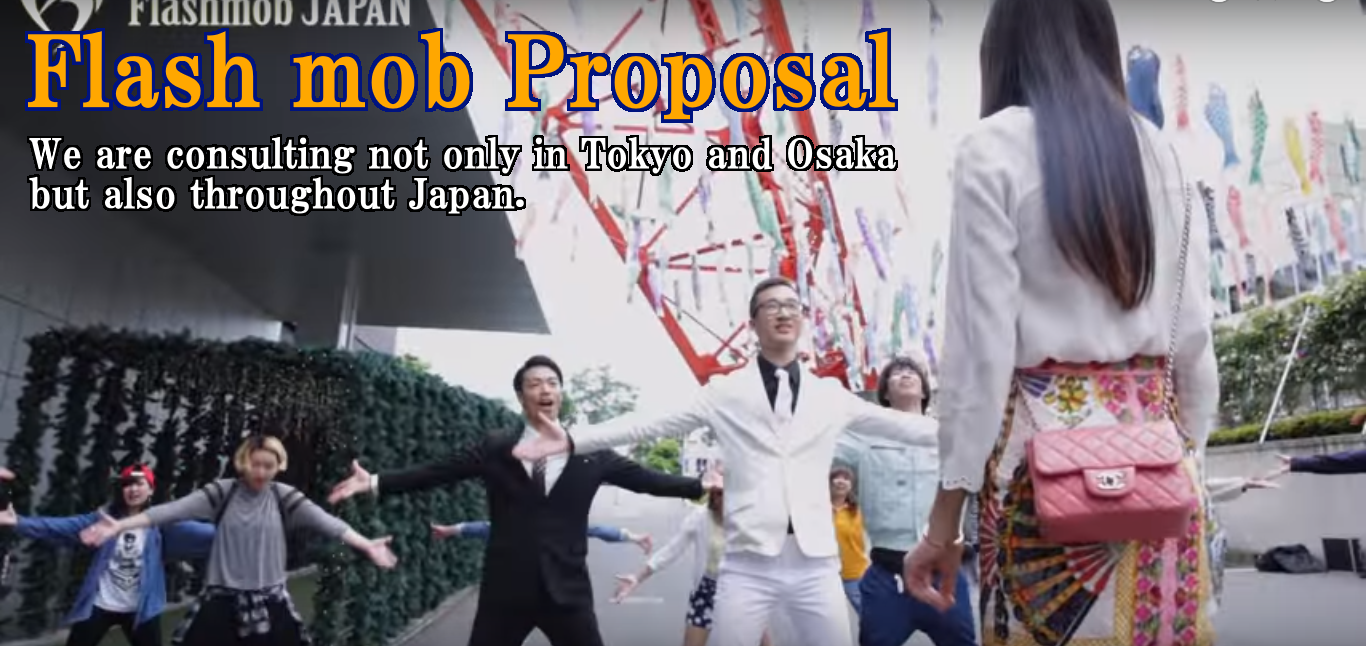 The video which Flashmob Japan carried out and made.
Flash mob proposal on the beach in Tokyo
This place is Odaiba. It is a date spot in Tokyo with many restaurants and clothing stores on the beach.
In the event space here, street singers arranged by our company will sing songs in advance to stop passers-by.
When the client's boyfriend and the target's girlfriend come and stop, a fake flash mob proposal starts and the client's boyfriend joins the dance.
20 dancers performed.
A flash mob proposal that rented out a restaurant in Tokyo
The location of this restaurant is Ikebukuro. Ikebukuro is a downtown area with many young people.
We rented out this restaurant for a flash mob.
Flash mobs are often danced to the playing of a CD, but this flash mob was performed with live singing and musical instruments.
Please leave it to us for a proposal production like this that other flash mob companies in Japan cannot do.
Chinese couple surprise proposal
We held a flash mob proposal at the China Festival 2018 held in Tokyo on September 9, 2018. It is a comical surprise proposal incorporating Chinese culture kung fu. The client practiced in the dance studio twice for two hours with no dance experience.
Flash mob cost
The cost of a Flash mob is about 255,000 yen for 5 dancers.
It is about 17,000 yen per additional dancer.
A location fee will be charged separately.
If you rent out the entire restaurant, the cost of the space is around 50,000 yen to 100,000 yen.
For outdoor, it is about 110,000 yen to 250,000 yen.
*Additional costs may be incurred depending on the production content and location.
*Cannot be held outdoors due to rain, and a 100% cancellation fee will be charged.
* Cancellation after request will be charged 100% cancellation fee.
*Payment method is credit card.
Flashmob JAPAN is the first company in Japan
Flashmob JAPAN is the first company in Japan to start a flash mob agency business.Flashmob JAPAN is not simply the first flash mob agency company in Japan, but we have the No. 1 track record in Japan, covering the entire country of Japan and foreign countries.
Until now, the various tasks you had to take care of on your own, such as finding locations, gathering members, music selection, choreography of dance moves, and arranging a surprise performance, will be handled by our company.
Upon listening to our customer's requests, we develop proposals, select music, conduct planning, stage the performance, and choreograph dance moves. For individual customers, we offer surprise proposals (Tokyo Osaka flash mob marriage proposals), wedding entertainment, after wedding parties, birthdays, parties and surprise events.
For our corporate customers, we can be utilized for Tokyo Osaka guerrilla events and corporate advertisements. We handle requests from both individuals and corporations. Also, not only do we offer dancing, but we are also capable of giving surprises with songs and musical instruments.
For those who are looking for Tokyo Osaka exciting scenarios that cannot be seen anywhere else, please feel free to contact our company. We respond to questions about flash mob costs and fees, and provide consultations and estimates free of charge. If you have any questions, please do not hesitate to contact us.